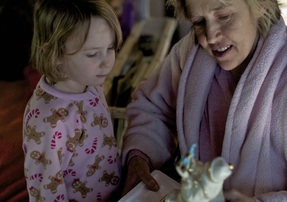 Robyn and Blaze, Chico, CA, December 2011
Last year on September 13, 2012 Robyn Few stepped off this mortal coil. But before we all pull out our hankies, let's remember the powerful force that she was in that last period of her life. She achieved so many things in the almost nine months since knowing that limited treatment options existed and that the cancer had returned.

Late in December 2011 when she got the call from her oncologist I was there with her at her place in Chico, the small cottage in the woods. I remember that she lay down on the couch for what seemed to be a day, unusually silent. But as the days progressed she made a hundred plans and as summer edged towards its end the following year she had carried out 99 of them. She (with a little help) emptied the storage garage, she gave away the Barbie dolls to little girls like Blaze and her granddaughter Jamie exhorting them to rip open the boxes she had kept closed for some many years. She tasted wine and saw the red umbrellas in South Africa, she travelled to Tucson in the back of a truck looking up at the stars. She was on conference calls for her organization, she recorded her thoughts about sex worker rights. She spent time with her newly born grandson, she watched Never on a Sunday, she went to Palm Springs with a posse, she doted on Boris (Parker), she got married again, she made it back to her parents' place in Kentucky and she set Zeke free.

She did all of this with almost no resources, she wasn't a wealthy person, she often lived day to day. She did not put off doing until tomorrow because she knew that there were not many more days. And she faced those days like an amazon. Farewell again dear Robyn.